The State of City Climate Finance 2015
Image: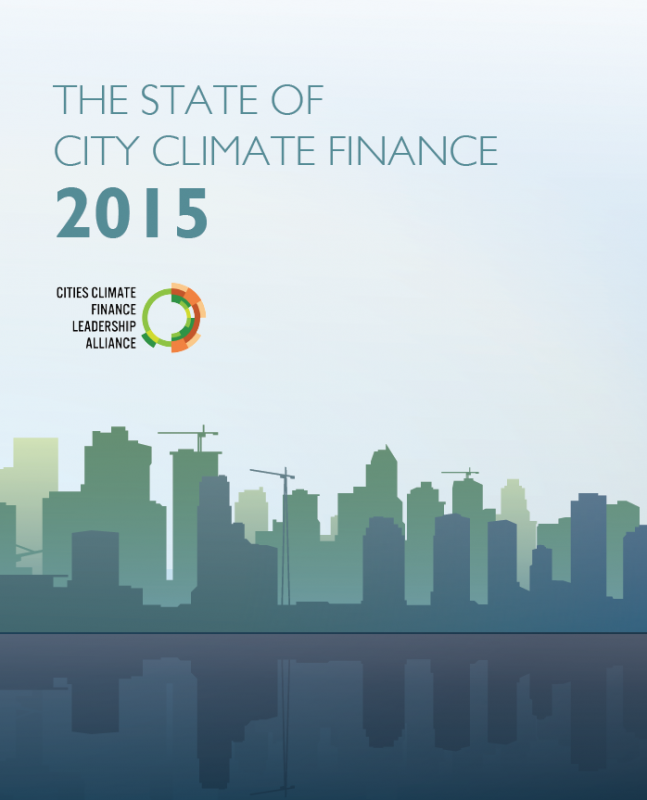 The Cities Climate Finance Leadership Alliance (CCFLA) was launched at the UN Secretary-General's Climate Summit in September 2014 as a pioneering global platform to facilitate collaboration between public and private-sector institutions committed to mobilizing investments into low-emissions and climate-resilient urban infrastructure. Since its launch, the Alliance has grown to include a diverse membership made of: national governments, leading global public and private finance institutions, city and subnational networks and associations including United Cities and Local Governments, UN Agencies, and advocacy organisations operating across the world.
This inaugural CCFLA report is the first attempt to develop a systematic global assessment of the urban climate finance sector. The report provides an overview of the current challenges to financing and the solutions needed. Through this inaugural publication, we note the need to gather more data on climate-related finance flows to cities. This report also highlights the critical steps required to accelerate and scale up financing, accumulate more data on climate related finance flows to cities, and the innovative tools and instruments that can be replicated and scaled.
Priority was given to plans that would scale up proven models or instruments and to projects that dedicate resources to investigating, proving, and disseminating new funding models for low-emission, climate-resilient urban infrastructure. The recommendations address a wide range of cities and sectors and include actions for national and local governments. They are:
Engage with national governments to develop a financial policy environment that encourages cities to invest in low-emission, climate-resilient infrastructure.

Support cities in developing frameworks to price climate externalities.

Develop and encourage project preparation and maximise support for mitigation and adaptation projects.

Collaborate with local financial institutions to develop climate finance infrastructure solutions for cities.

Create a lab or network of labs to identify catalytic financial instruments and pilot new funding models.