Housing Finance in Africa: A review of some of Africa's housing finance markets
Image: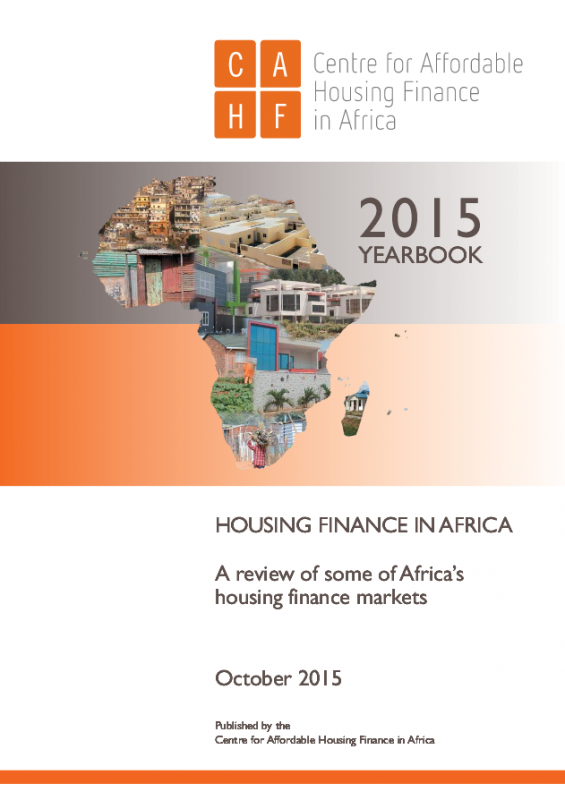 This is the sixth edition of the Housing Finance in Africa yearbook released by the Centre for Affordable Housing Finance in Africa. This report is made of 48 country profiles and five regional profiles, so that this yearbook reflects at best the current situation of housing finance markets on the African continent in 2015. Special emphasis is placed on the key challenge of housing affordability, and the critical need for housing products and finance that are explicitly targeted at the income profiles of the majority.
The Yearbook is intended to provide housing finance practitioners, investors, developers, researchers and government officials with a current update of practice and developments in housing finance in Africa, reflecting the dynamic change and growth evident in the market. It is hoped that it will also highlight the opportunities available for new initiatives, and help practitioners find one another as they strive to participate in the sector.
Innovation in housing finance –in terms of products, players, and approaches, not to mention target markets – is a key feature across the continent, creating new opportunities for investment and delivery. As both local and international investors chase growth opportunities in a sluggish global economy, they are employing diversification strategies to manage the risks of their traditional targets – and in this, residential property is increasingly becoming an option. Investors are faced with a paradox, however. By their very nature, they are drawn to the high income markets. It is in these markets that they can price adequately for risk and realize the returns they seek. However, the real story – the scale opportunity just waiting to be cracked – is in the lower income market segments. The arguments for investment in residential – high urbanization rates, a growing middle class, a shortage of supply – these are all arguments for moving down market into the uncharted waters of affordable housing. Can investors and developers do it?
Five stories characterize Africa's housing finance markets in 2015:
Innovation in financing
Growing awareness of the opportunity in residential
The identification of niche markets and an appreciation of the affordability challenge
Policy & regulatory evolution to match investor interest
Growing experience and investor sophistication