Habitat III thematic conference on Financing urban development: the Millenium challenge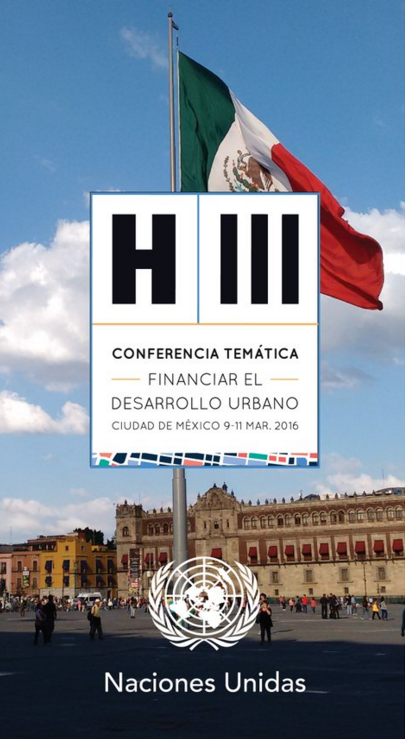 The thematic meeting on urban financing and municipal finance in preparation for the Habitat III Summit "Financing urban development: the Millenium challenge", was held from March 9th to 11th, 2016, in Mexico, with the aim to draw the priorities for the financing of the new urban agenda. The final declaration is avalaible here. 
In the framework of its advocacy during the whole preparatory process, UCLG Committee on Local Finance for Developemnt will actively participate in this event, in order to include in the final declaration, strong key messages to bring to Quito. They will relate to the necessity to strengthen and diversify local finance and to facilite local governments' access, at the national and international levels, to the necessary long-term resources for ensuring a sustainable urban development and reach the SDGs. 
The Committee participated in particular in the elaboration of the plenary session 2. This session was dedicated to debating on sources and innovative financing mechanisms for urban development. Moderated by UCLG General Secretary Pep Roig, speakers in the session included:
Felipe de Jesús Gutiérrez Gutiérrez - Secretary of Urban Development and Housing, Mexico City Government, Mexico

Peter Head - Ecological Sequestration Trust Executive Chairman and Member of UNSDSN

Anaclaudia Marinheiro Centeno Rossbach, - Regional representative for Latin America and the Caribbean, Cities Alliance

George W. McCarthy - President and CEO of the Lincoln Institute of Land Policy

Henry de Cazotte - Special advisor to the director for development and Global Public Goods, French Ministry of Foreign affairs and International Development

Geoffrey Makhubo - Councillor at the Mayoral Committee of Finance of Johannesburg and President of FMDV
Nathalie Le Denmat, Secretary Executive of the Committee, also participated in a parallel session 1B on local priorities in the global agenda of urban financing​.
Through a collaboration with the Committee on Social Inclusion, Participatory Democracy and Human Rights of UCLG, the CLFD also took part in a side-event co-organized by the CISDP and the Government of the City of Mexico, on local governments' social investments: justice and urban equity, in order to launch a debate on the balance between the use of land and real-estate valuation to finance local investments, and the fight against economic and spatial inequalities.  At the end of the side-event, the CISDP declaration on local finance and right to the city has been adopted. 
Ronan Dantec, French senator and UCLG spokesperson on climate change, spoke in session 2B on cities, climate change and green funds, and Joaquim Oliveira Martins, head of the OECD Regional Development Policy Division, took part in plenary 3 on finance, decentralization and local autonomy. 
Finally, a side-event was organized by the Cities Climate Finance Leadership Alliance on the 9th, on the thematic: "A Green Deal for Cities and Regions' Climate Finance : Partnering for change in view of Habitat III".
Webcasts from most sessions are available at this link
Full agenda: 

You can find the online urban dialogue on the topic here